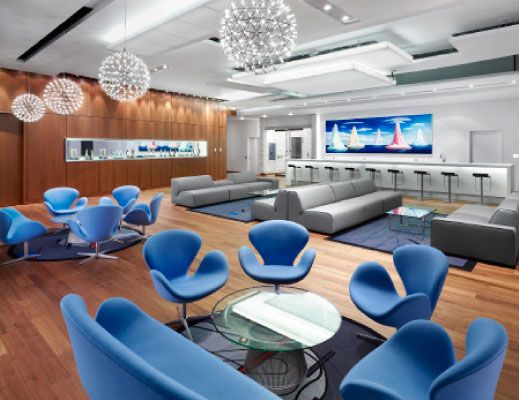 As we will have all seen whilst travelling across the globe, design and trends in airport furniture are on the rise, with much emphasis being placed on lounges. The recent launch of the luxurious Stockholm Grand Central station SAS lounge, designed by Ilse Crawford, has attracted much attention with its plush velvet-covered armchairs and sofas in rich browns and deep blue hues situated around the bar. Additionally, the workspace lends a very Scandinavian hygge atmosphere, complete with white tables, blue and grey upholstered seating, industrial-looking contemporary light fixtures and wooden floors.
CONTEMPORARY DESIGN AT AIRPORTS.
The London-based designer who founded Studioilse in 2003 and has since designed the interiors of many VIP clubs, hotels and restaurants, has also been behind the airport contract furniture in Hong Kong's Cathay Pier First Class Lounge Day suites. These are furnished with daybeds, elegant sofas and cognac-coloured leather wing chairs with matching ottomans and tables in onyx, limestone and bronze giving the main lounge a perfect sense of well-being and calm.
Brands always strive to find innovative ways to convey an exclusive membership feeling whilst offering travellers new ways of working whether alone or with colleagues. Steelcase and Coalesse are among the most reputed furniture brands in this space. Renowned for their century-long experience and innovative streak, their sturdy and elegant seating offers a variety of set-ups and a much-needed versatility with options such as screens, work tablet arms and power outlets. French designer Jean-Marie-Massaud's lounge furniture collection for Coalesse was the winner of the Red Dot Design Award – Best Product Design in 2015, celebrating the perfect combination of comfort and technology.
EXCEPTIONAL PIECES OF CONTRACT FURNITURE AT AIRPORTS
The Massaud Lounge set comprises an armchair with a swiveling tablet, an adjustable headrest with removable pillow inserts for ergonomic sizing and comfort, and an ottoman with a side pocket and interior storage space.
Another of the leading furniture brands in this space is Arconas: this Canadian company has designed furniture for over 200 airports. To Lynn Gordon, VP for airport solutions at Arconas, the latest trends in airport contract furniture include at-seat power, accessories such as drink holders, tablet arms, foot rests, and diversity in terms of configurations. When it comes to the overall design, organically-shaped layouts are now preferred to linear rows thus welcoming the flow of travellers.
Whilst many restaurants and lounges in airports around the world from Mexico to Mozambique favour the vast selection from Pedrali http://www.pedrali.it/en/references/airports-and-stations/, Arper is a popular choice for airport lounges with Munich Airport favouring Arper's Catifa 70 and Singapore VIP lounges Arper's Catifa 60.
Click here to see our selection of airport furniture for purchase in Hong Kong.