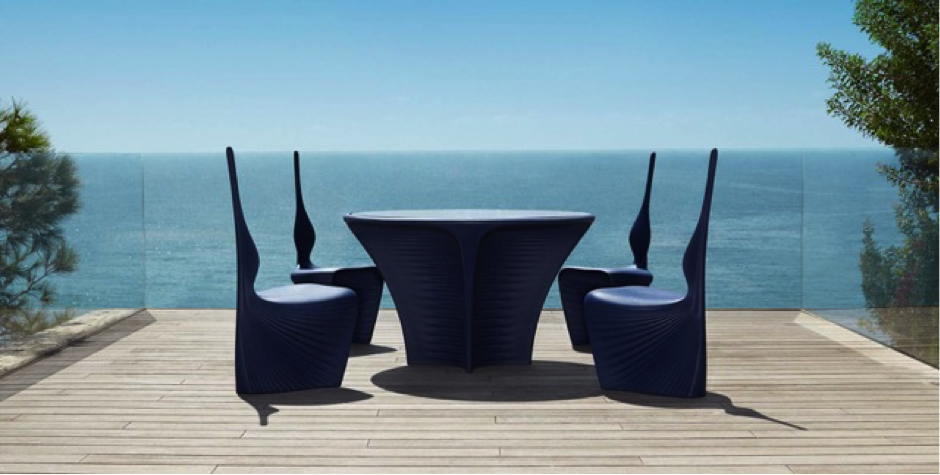 Outdoor Furniture Options
Outdoor furniture sales are on the rise, and manufacturers are producing increasingly innovative pieces to withstand weathering and create a splash on the patio.
Sonia Jackson, CEO of IROCO Design, looks at 2017 trends.
WHAT'S EXCITING US IN FURNITURE TRENDS
Make it Shine: Illuminated furniture is still very much on trend, and adds instant atmosphere to any outdoor gathering. Slide Studio make an elegant selection of softly glowing benches, tables and poufs, and the illuminated Ball collection is glamourous and fun. Cordless and rechargeable outdoor lights are also practical; look at the Pivot Lamp from Carlo Constantini, or the Bijoux lamp from Wortmann.
Blending Indoor & Out: Outdoor contract furniture in Hong Kong looks increasingly similar to indoor – Serralunga's zany Sirchester Sofa is rain-repellant but mimics the comfort and style of a classic Chester, while Philippe Starck's polyethylene Magic Hole Sofa is stylish but practical, as is Palomba's Plie Armchair. Invest in versatile outdoor furniture that is movable or multi-functional; tables with wheels, foldable chairs, or seating that doubles as storage. Ross Lovegrove's BD Love Lamp provides both lighting and seating, and is also an exuberantly lively sculpture. IROCO Design is proud to offer a stunning selection of cutting edge contemporary furniture.
New Brights & Weaves: While black and brown finishes are still perennial favourites, there is greater expression in colour, shape and prints for 2017, especially where cushions and outdoor accessories like beanbags are concerned. Peacock, coral or fiery red tones; multi-coloured yarns; braiding, and exciting new weaves and textures are all on trend. Vondom has the most exciting collection of brightly coloured sun chaises and chairs – see images below.
Raw Materials: Along with the trend for metals in interiors, unfinished stone, concrete and steel will be popular outside, too. Aged patinas on brass and steel bring a warm feel to an outdoor area.
A STUNNING COLLECTION OF OUTDOOR CONTRACT FURNITURE
Click here to see our selection of outdoor furniture for purchase in Hong Kong.