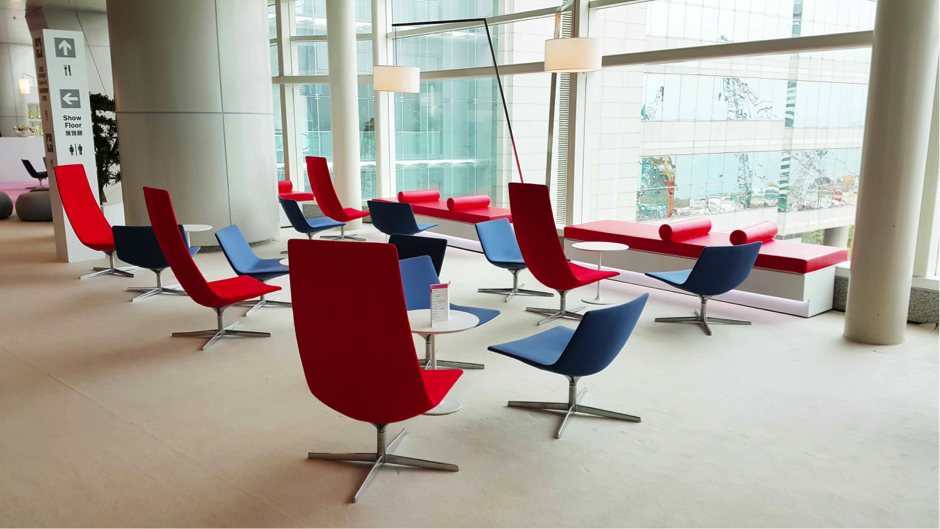 Hong Kong is now the world's third largest art market, with – it is reported – auction houses Christie's and Sotheby's selling more contemporary artworks in their Hong Kong branches than the rest of their salesrooms combined. The city has also become an important destination for buyers and gallerists: Art Basel began exhibiting in Hong Kong four years ago, and Art Central – part of the city's wildly popular Art Week – returned in March for its third edition, hosting 32,000 international collectors, curators and art enthusiasts.
Apart from showcasing some of the world's most beautiful and inspiring artworks, Art Basel and Art Central have something else in common – IROCO Design has provided rental furniture for both shows. Providing the right ambience and aesthetic means furniture for seating or reception areas must enhance, not detract, from the artworks – and after all, beautiful furniture can be works of art themselves, according to New York architect Lee F Mindel. He once remarked: "Furniture is usually considered part of the decorative arts, but the blurring of the line between the disciplines of art and design opens furniture to the art category. Furniture is being marketed as art, so it's on topic with the way the contemporary art world works. Interiors are no longer decorated, they are curated".
To create an interior with understated elegance that was suitably striking and contemporary, the organisers of Art Basel sought input from IROCO Design in designing the layout and look of the show; furniture was selected from Arper, renowned for its minimal design, clean lines and high quality (see image below). The Italian design company produces a range of beautiful pieces with pleasingly fluid curves and shapes – see Meety for architectural tables in which the top appears to hover or float over sleek aluminium legs; Catifa 53 for graceful chairs which are as comfortable as they are stylish, or Parentesit – an innovative acoustic wall module designed to reduce extraneous background noise, and create an enclosed space. IROCO Design has a large selection of Arper products for purchase in Hong Kong.
IROCO Design was also responsible for the design and layout of furniture at the popular Art Central show, held in the same week in Hong Kong: the bar was furnished with Pedrali's Inox tables and Babila stools in black (see image below).