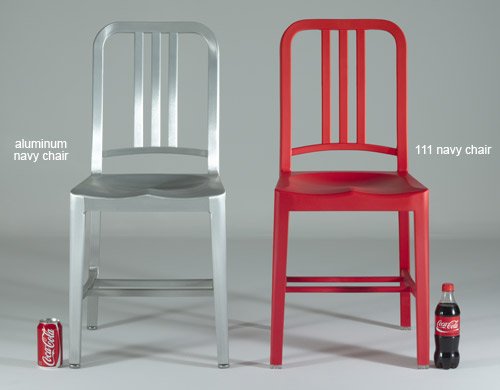 Long before 'green' entered the popular vernacular, American company Emeco was salvaging aluminum to produce functional steel seating. When a 1944 commission from the US Navy demanded a resilient and lightweight design, capable of withstanding salt water, sea air and the odd torpedo, the 1006 Navy Chair was born.
Back in the 1940s, no one imagined the Navy Chair would find its way into fashionable circles (courtesy of Ettore Sottsass, Giorgio Armani and a large order from Philippe Starck, for The Paramount Hotel in New York City), or that it would become a frontrunner for an extraordinary range of trailblazing designs produced in collaboration with international designers including Starck himself (the Hudson Chair) Frank Gehry (the Superlight Chair), Norman Foster (the 20-06 Chair) or Ettore Sottsass (the Nine-O Chair). Click here to see our selection of Emeco furnitures for purchase in Hong Kong.
Similarly, no one imagined recycling would become the defining signature of this pioneering company, but Emeco is constantly exploring new ways to use consumer and industrial waste, and environmentally responsible resources to create and built simple, timeless furniture. Witness its collaboration with Coca-Cola, who approached them with the idea of recycling discarded plastic bottles, and resulted in the funky 111 Navy Chair.
Today, Emeco's craftsmen use PET (polyethylene terephthalate), reclaimed wood polypropylene, previously used wood, eco-concrete and cork to hand make stylish and beautiful chairs that are also strong, engineered to last and designed to be passed down through generations – with a keen eye on the future.
Click here to see our range of Emeco products.