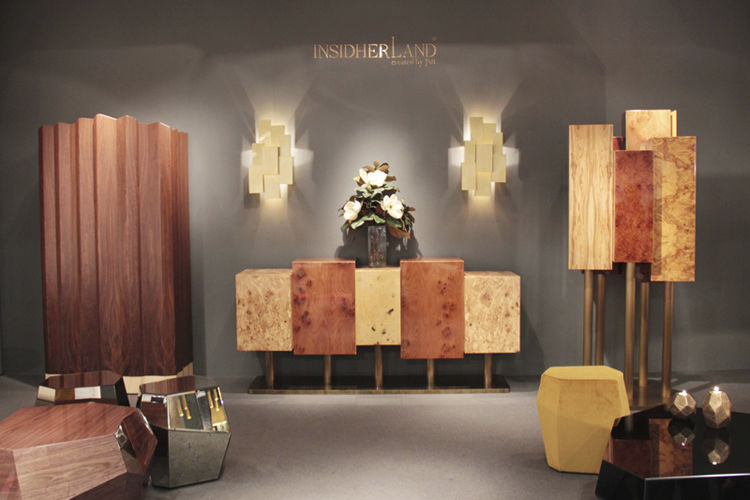 Elegant and timeless wood – and especially dark wood in cocoa-coloured, hazelnut, or rich chocolate brown – is very much back in fashion this year, says IROCO Design CEO Alex Henrich. Of course, wood has always been one of the natural choices for furniture-makers through the centuries, but today's artisans and designers are imagining striking new uses for this versatile material.
Henrich believes Portuguese designers such as Boca do Lobo and Insidherland are taking the lead where furniture design is concerned, incorporating many different types of wood or wood finishes into their collections. See some of Bocadolobo's incredible and innovative designs (including the Frank Chest of Drawers, the Queens Highboy, the Guggenheim Nightstand or the Eden Patina Coffee Table), or Insidherland's Four For Luck Console, Into The Woods Bookcase, or The Special Tree Cabinet. The founder of Insidherland, architect Joana Santos Barbosa, says she is influenced by organic forms of nature, legends and traditional culture, and the furniture is certainly strikingly original and imaginative.
In interiors, cladding a wall in wood panelling might seem like a retrospective move (think back to the seventies love affair with vertical wood slats), but this year, it's shaping up to be one of the most contemporary and on-trend designs. We're not advocating chalet-style strips of cedar wood, of course, but the clever use of timber to create texture and warmth: a fashion a growing number of hotels, restaurants, bars and shops are readily embracing. A restaurant in Mexico City, Canalla Bistro, has created an elegant scale-like effect by overlapping pieces of wood on the walls, and other designers are using it on ceilings or counter tops. Suppliers are appearing to meet the demand for goods: Wonderwall Studios based in The Netherlands, or Teak Your Wall in Brussels both have stylish and innovative collections using a variety of materials such as tropical hardwoods, vintage rail sleepers or recycled teak from Indonesia.