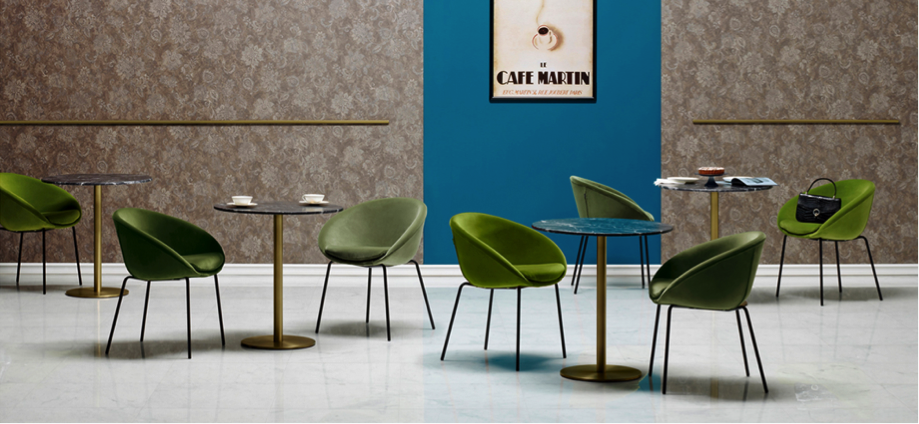 New year, new trends: it's no secret the interiors world follows the international catwalks, but seismic shifts in global politics and culture also affect design aesthetics, and ultimately how we want our homes to feel. Here are six design trends IROCO Design CEO Alex Henrich, predicts will fly this year:
Jewel Tones: Pale pinks and blues will be replaced by rich, dramatic jewel tones for an elegant look the style pundits have christened Modern Natural: midnight blues, forest greens and chocolate brown hues are the new colours to desire. Hay has produced About A Chair in covetable shades including Hunter, Dusty Blue and Warm Red, and Insidherland's striking upholstery comes in dreamy tones of Atlantic Blue, Espresso, Olive and Esmerald.
The New Metals: Warm metals like copper and brass will continue to be a hot interior pick this year, but high gloss or super shiny finishes will be replaced by a more muted or burnished, vintage look. Tom Dixon is still the go-to designer for warm metals; new lighting for 2017 includes the spectacular Curve, Fade, Melt or Etch Mini designs. Also worth a look is Heritage Lighting from DelightFULL, and the range of elegant tables in mixed metals from Italian maker Pedrali. Click here to see our large selection of Pedrali products for purchase in Hong Kong.
Texture: A traditional favourite with interior designers, the layering of textures has become more interesting. New techniques such as pleating or folding in velvets or cottons are everywhere this season: look at DelightFULL's new collection – the velvet rouche of the Doris Armchair and pleated upholstery of the Bogarde Armchair are both strikingly unusual.
Artisanal: Skilled craftsmanship and a folk-inspired, handmade vibe continues to be a sought-after trend, as taste-makers move away from manufactured finishes. There are some truly innovative pieces in Insidherland's new catalogue, from fantastical mirrors fashioned from leaves, to rock-inspired furniture. Like fellow Portuguese brand DelightFULL, they also offer custom-made furniture.
Wood: There's a love affair with wood and wood panelling this season; combine dark woods such as walnut or oak with steely greys and metallic finishes for an enviably contemporary interior. It's worth looking at DelightFULL's stunning Anthony Sideboard, where a polished marble top and solid walnut structure is combined with brass detail. Insidherland has some of the best solid wood pieces this season; the Special Tree Sideboard marries brushed brass with three types of exotic roots in natural colour.