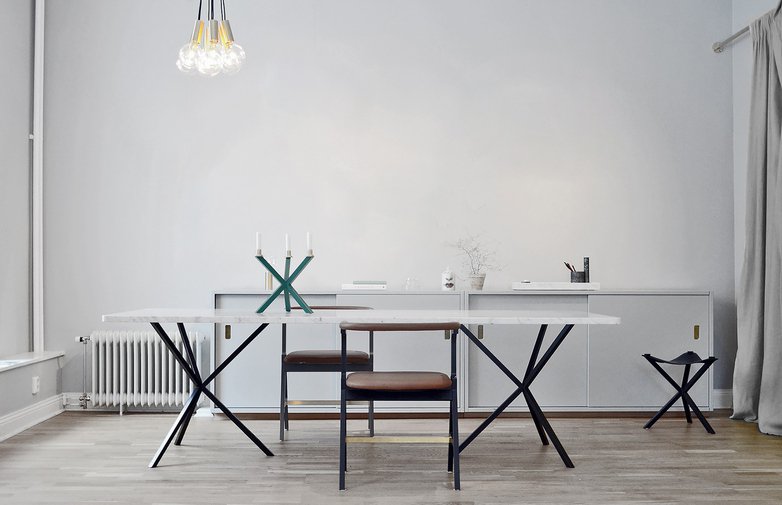 Tables are ever-present in the workplace.  Be they office or meeting tables, corner or boardroom tables, placed in a kitchen or conference room… tables are a key feature of the design of a workplace.
Whether for casual gatherings or a quick lunch, or a crucial business decision, or even a nap – life revolves around the table and the right table is important. The choice of a table reflects the companies' vision; a table will talk about power or position if it's too imposing in a boardroom; it may rise and fall at the touch of a button for the CEO watching their waistline; it may shine or sparkle in a luxury brand's meeting room – tables bring people together and speak loudly about companies' positions. Here are a few that stand out:
Big Table B. Konstantin Grcic for BD Barcelona
With the addition of an aluminium extension, this modernist table can stretch to 5 metres. Elegant and imposing, Big Table B is definitely a contender for the ideal meeting room table.
DIDYMOS Table by Antonia Astori for Driade
There is no doubt that oval tables are special. The lack of sharp edges promotes togetherness, which in exchange improve relationships. Didymos is all you expect from an oval table, and with its beautiful sculptural base, it certainly won't go unnoticed.
Cantilever Modular Table by Molo Studio for Molo
The Cantilever Table is designed with collaborative, co-working spaces and events in mind.  Built from a flexible, honeycomb geometry, it easily expands, morphs and connects to itself via magnetic ends, and folds back to a flat pack for easy storage. Superb for multi-use spaces and pop up events.
Aero Table by Daniele Lo Scalzo Moscheri for Pedrali
Quintessentially Italian, elegant and modern, the Aero Table has both superb quality and striking aesthetics. Fitted with a glossy tempered glass top which balances upon a lacquered steel base, it works well in boardrooms and office kitchens alike. A perfect, design shabby solution for any working space wherever you are.
Snaregade Table by Norm Architects for Menu
Restrained, sentimental, yet angular and impressive, the Snaregade Table is the epitome of Nordic elegance, neatly structured with an avant-garde six-leg design. At once odd and good looking this is the table to have in any creative office